Safer® Brand Yard and Garden Insect Killer 24 fl oz RTU
Safer® Brand Yard and Garden Insect Killer 24 fl oz RTU
Kills many insects including aphids, beetles, caterpillars, and more.
Comes with one 24 fl oz ready-to-use spray.
Kills insects on contact.
OMRI Listed® and compliant for use in organic gardening.
Can be used up to the day of harvest.
Safer® Brand Yard and Garden Insect Killer is a specially formulated combination of insecticidal soap and pyrethrins to kill insects on contact. Growing your own organic foods can be a rewarding experience. Use Yard and Garden Insect killer to eliminate damaging pests so you can concentrate on your produce and not the insects!
Pyrethrins attack the insect's nervous system and potassium salts of fatty acids weaken the insect's protective outer shell, adding up to a lethal insect killer combination! This product is effective on both hard and soft bodied insects, providing a broad range insect control option, including aphid control and whitefly control
The ability to use this product on tomatoes and a wide array of other vegetables offers a convenient solution to garden annoyances.
OMRI Listed® and compliant for use in organic gardening. Safer® Brand Yard and Garden Insect Killer can be applied directly to fruits and vegetables right up until the day of harvest! It also can be used on flowers, trees and shrubs.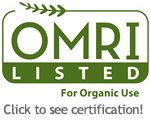 Directions for Use:
Shake well. Use at first sighting of insects. Thoroughly moisten all plant surfaces where insects are feeding or resting. Apply every 7-10 days when insects are present or as needed to prevent damage.
Coverage:
32 fl oz will treat approximately 20 plants, 2 ft high by 2 ft diameter or 1 tree, 10 ft high by 4 ft diameter
Safer® Brand is the leader in alternative lawn and garden products, offering many solutions that are compliant with organic gardening standards. Safer® Brand recognizes this growing demand by consumers, and offers a wide variety of products for lawns, gardens, landscapes, flowers, houseplants, insects and more!
---
We Also Recommend
---